Is Your Child Struggling with Science Maths or Communication ?
To Be Good in Other Subjects English Proficiency is a Must.
Why English Proficiency Matters ?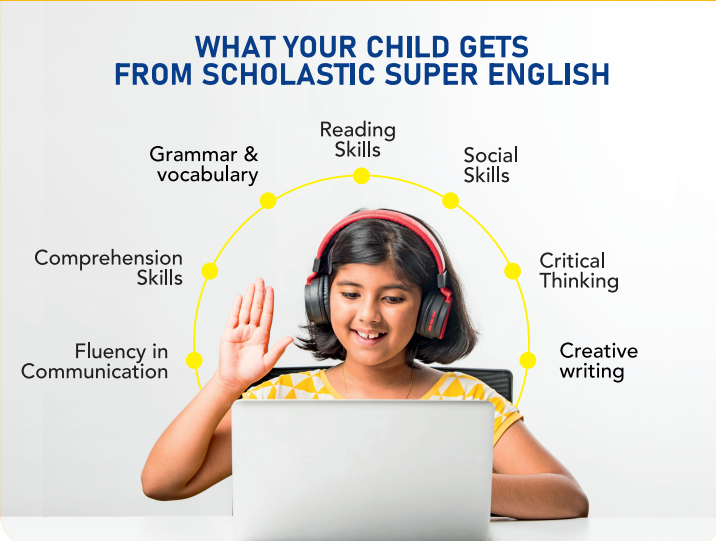 Gift your Child English Language Proficiency in 3 Steps with Super English !
Brought to You By Scholastic, The World's Largest Publisher of Children's Books, With A 100-Year Legacy in Education.

Take a One-on-One Counselling to Check English Ability
Get Coached by Top Coaches

Become Proficient in English & Communicate Confidently
What Makes Scholastic Super English Unique

Curated and Levelled Lessons

Live Coaches and 1:6 Student Batches

Creative Assignments

Engaging 90 Minute Classes

Periodic Assessments and PTM

Certified Experts From Top Schools
I Learnt a lot of Unknown facts and new words. I also Enjoyed Reading and Listening to Fun Stories. Our Coach is sweet and kind. She is always there for us, waiting for everyone to join and learn together. She deeply cares for us. I simply loved my experience with Scholastic Super English !
I had a great experience taking in this Super English Course. It's very easy to understand the concepts in Truely Fun Way. In every week I have learned more and more and it helps me improve my speaking a lot. Thanks to the instructors and our mentors.
Book a Free Counselling
( For Grades 3 to 8 )
Address:
Unit 9/10 ,2 nd floor B block market, South City II, Gurugram, Haryana 122018
Call for help:
+918826121999
+918826131999
+919718512151
Mail us for information
knowus@guidesclasses.com
Contact Us for Free Guidance